The life and prospects faced by a newborn in a poor country or in a poor household are radically different from those of wealthier children. In all societies, long-standing forms of inequality persist while gaps are opening in new aspects of life. The 2019 Human Development Report will focus on understanding the dimensions of inequality most important to people's wellbeing, and what is behind them. The report will go beyond the dominant discourse focused on income disparities to also consider inequalities in other dimensions such as health, education, access to technologies, and exposure to economic and climate-related shocks. It will use new data and methods to highlight how inequality affects people's lives in a way that measures based on averages cannot; and it will take a long-term view towards 2030 and the achievement of the Sustainable Development Goals and beyond. Read press release and blog by Pedro Conceição, Director of the Human Development Report Office at UNDP.


With 15 consultation meetings already confirmed between March and May 2019, in both New York and with partners and regional stakeholders in Geneva, Cairo, Beirut, Rabat, Doha, Buenos Aires, Marrakech, Nursultan, Tokyo and Paris, the Report will look to provide the broadest analysis of inequality in human development to date. This page will chronicle the preparation process, share reports and news from consultations as well as pre-release some of the report's content along the way. Stay tuned.
Latest Updates

28 May 2019, The first Advisory Board meeting for the HDR 2019

The first Advisory Board meeting for the 2019 Human Development Report was organized in Paris, France on the 28th of May 2019. This meeting served as a key milestone in the lead-up to the Human Development Report on inequality, which will be released towards the end of the year. The role of the Advisory Board is to provide intellectual advice and guidance to the Human Development Report Office on the overall vision, direction and messages of the HDRs. A Zero Draft of the Report, including the analytical framework and initial findings, was discussed.
The 2019 Advisory Board meeting was co-chaired by Thomas Piketty, Professor at the Paris School of Economics and the School for Advanced Studies in the Social Sciences, and Co-Director of the World Inequality Lab; and Tharman Shanmugaratnam, Senior Minister and Coordinating Minister for Social Policies of Singapore. The Boad included government officials, academics and leading global development experts. Several members of the Advisory Board were able to participate in the meeting either in person or remotely, and contributed to the discussions with their review of the draft report. The proceedings at this meeting covered a wide range of topics, including the initial discussion of inequalities and the scope of this report addressing capabilities and human development. The discussions addressed inequalities that went beyond income dimensions alone, to disparities in opportunities, inclusion and access. It raised the issue of going beyond averages and being able to look at both the bottom and top ends of the distribution, as well as gender and other horizontal inequalities to recognize the importance of base and gradients for poverty and inequality concerns. Issues of intersectionality and social norms for the persistence of inequalities were also discussed. Furthermore, the discussions noted the importance of addressing inequalities that go beyond today and impact sustainability issues both in environmental and inter-generational concerns. The emerging trends of technological progress led by digitalization and its impact upon the future world of work, and the challenge posed by climate change were some of the future dimensions of inequality that were also addressed. Overall, the Advisory Board endorsed the strategic direction of the Report and provided valuable feedback.
Members of the 2019 Human Development Report Advisory Board include Olu Ajakaiye, Executive Chairman, African Centre for Shared Development Capacity Building, Ibadan, Nigeria, Kaushik Basu, Professor of Economics and Carl Marks Professor at Cornell University and President of the International Economic Association, Haroon Bhorat, Professor of Economics, University of Cape Town, South Africa, Laura Chinchilla Miranda, President of Costa Rica (2010-2014) and Vice President of the World Leadership Alliance - Club de Madrid, Francisco Ferreira, Senior Adviser, World Bank's Development Research Group, Janet C. Gornick, Professor at the Graduate Center, City University of New York, and Director of the Stone Center on Socio-Economic Inequality, David Grusky, Professor at Stanford University and Director of the Stanford Center on Poverty and Inequality, Ravi Kanbur, T. H. Lee Professor of World Affairs, International Professor of Applied Economics and Management, and Professor of Economics at Cornell University, Enrico Letta, Dean of the Paris School of International Affairs (PSIA) at Sciences Po and former Italian Prime Minister, Chunling Li, Chief Research Fellow at the Institute of Sociology of Chinese Academy of Social Sciences (CASS) and Deputy-Director of CASS Center for National Survey and Big Data, Nora Lustig, Samuel Z. Stone Professor of Latin American Economics and Director of the Commitment to Equity Institute (CEQ), Tulane University, Njuguna Ndung'u, Executive Director of African Economic Research Consortium and the former Governor of the Central Bank of Kenya, Frances Stewart, Professor Emeritus of Development Economics, University of Oxford.


24 May 2019, Latin America and the Caribbean Regional Consultation in Buenos Aires, Argentina

The consultation was hosted by RBLAC and UNDP Argentina, following a Brainstorming Session on the Forthcoming Regional Human Development Report for LAC, with a select group of experts on inequality working on Latin America and the Caribbean.

HDRO presented the main messages of the Human Development Report 2019, with an emphasis on regional trends on inequality in human development, also exploring their causes and consequences.

Experts from the region highlighted the value of the novel framework and analytical and empirical insights of the 2019 HDR and provided comments based on the regional context.

They also highlighted the policy debate relevant today in Latin America, documenting the political economy constraints faced by efficient pro-equity reforms.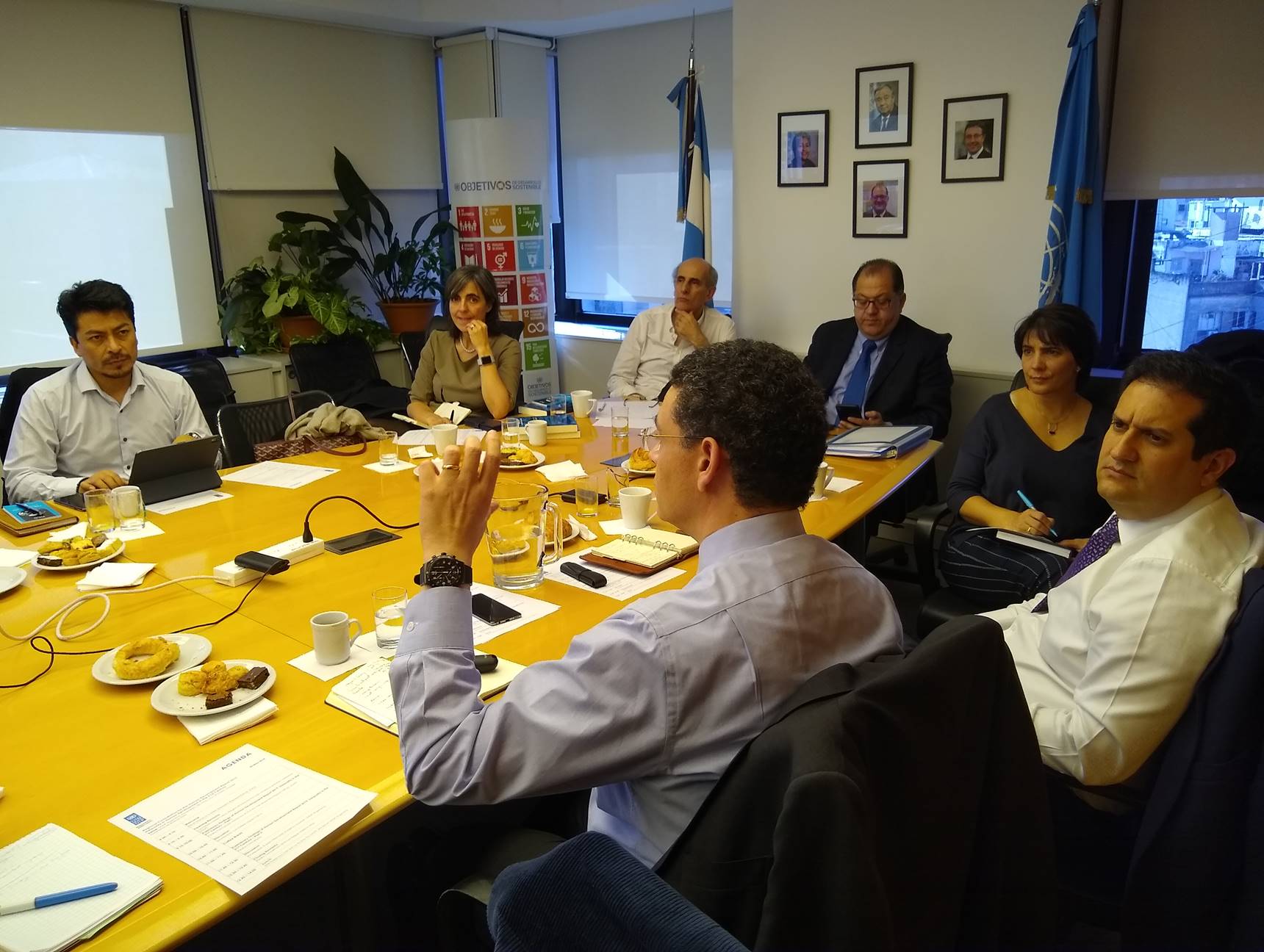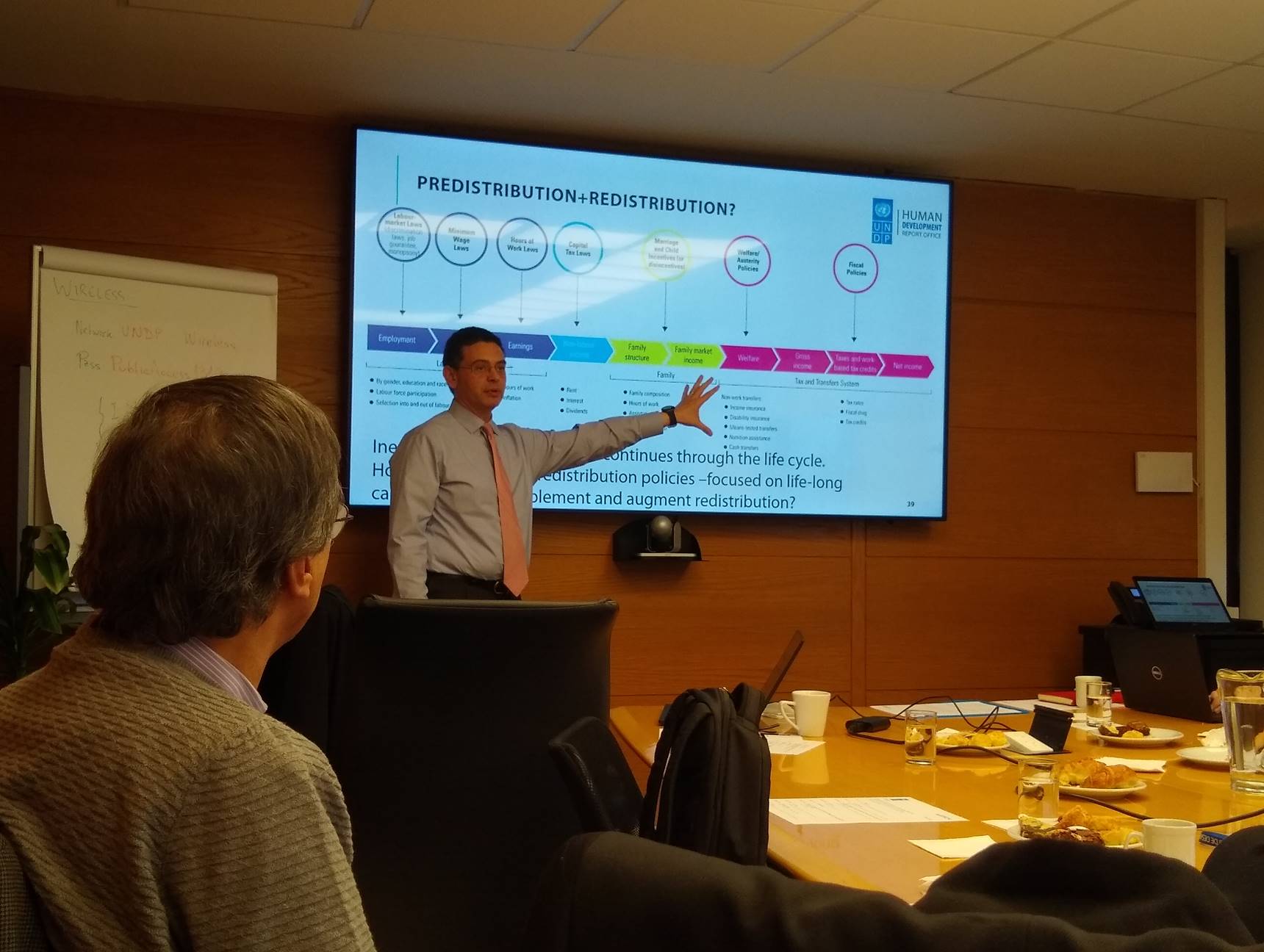 21 May 2019, Nairobi Regional Consultation

The Expert Group Meeting was convened to review the draft 2019 Africa Sustainable Development Report, which is a joint annual publication of the African Union Commission (AUC), the United Nations Economic Commission for Africa (UNECA), the United Nations Development Programme - Regional Bureau for Africa (UNDP-RBA) and the African Development Bank (AfDB). The report tracks progress on the implementation of Agenda 2063 and Agenda 2030 for Sustainable development in Africa. The 2019 version of the report is the third in a series of reports to track progress on the two agendas following their adoption by the Heads of State and Government in 2015. The 2019 report is aligned with the theme "Empowering people and ensuring inclusiveness and equality" of the 2019 High Level Political Forum on Sustainable Development (HLPF).

This year's report covers six SDGs, among them Goal 10 (reduce inequalities). As such, HDRO held a consultation with all participants on the ongoing work towards HDR 2019 on inequality. In addition to participants from the four organizations (AUC, UNECA, UNDP-RBA and AfDB), experts from 43 Member States of the African region participated in the meeting as well as the consultations. The key ideas of the upcoming HDR were well received and several participants considered them to be very powerful messages. Member States were also very pleased with being consulted at an earlier stage of the process than in previous years.

Some suggestions for improvement included putting more emphasis on the links between inequality and conflict or human security; considering whether or not we are questioning the developmental model followed by countries since 1980; looking at climate change not just as an ecological shock but seeing it in its socio-economic context, as it makes building resilience harder for those who are most affected; expanding the Human Development Index to account for more dimensions, such as the environment, resilience to climate change, freedom and democracy; and further exploring three types of inequalities – of outcome, of opportunity and of impact of external shocks.


16 May 2019, Washington D.C. Consultation

HDRO was invited for two consultation meetings in Washington DC on the 2019 Human Development Report. The first meeting was organized with the IMF's Fiscal Affairs Department and brought together over 30 experts from the fiscal, expenditure, and tax policy divisions. The conversation focused on the impact of fiscal policy in reducing market-income inequality and the relative contribution of taxes and transfers. HDRO Director Pedro Conceição also presented at a seminar at the Brookings Institution with leading development experts and academics. The discussion focused primarily on policy recommendations to reduce inequalities.


9 May 2019, Paris Regional Consultation

HDRO, in partnership with the Organization for Economic Co-operation and Development (OECD), held a seminar on the 2019 HDR in Paris, France, which took place on the margins of the OECD-ATD Fourth World's international conference on Addressing the Hidden Dimension of Poverty. The objectives of the seminar were to: (i) to consult with OECD experts and representatives of ATD Fourth World on the upcoming report; (ii) to discuss policy options to reduce inequalities; and (iii) promote buy-in among key stakeholders.

The seminar was moderated by Marco Mira d'Ercole, Head of Division for Household Statistics and Progress Measurement in the Statistics and Data Directorate at the OECD. Thangavel Palanivel, HDRO Deputy Director, presented on the 2019 report. And this was followed by a presentation by Carlotta Balestra, Policy Analyst at the OECD Statistics Directorate, who discussed the OECD's report on Inequality in Wellbeing. Her presentation focused on a framework and set of indicators to assess inequalities across a wide variety of well-being domains, covering both material conditions and quality of life outcomes, as well as measurement and data challenges.

The discussion highlighted the importance of addressing several inequality-related questions in the 2019 HDR such as (i) Inequalities of what? Which dimensions of people's life should be examined?; (ii) Inequalities among whom – vertical or horizontal inequalities or both?; (iii) Inequalities over which time frame?; (iv) Inequalities or deprivations or both?; and (v) Outcomes or opportunities? There is an important distinction between inequality of outcomes and inequality of opportunities, as policy implications are different for each.

Overall, the consultation was very useful in understanding the challenges and perspectives of experts from developed countries. The consultation also reinforced the relevance and importance of the theme of multi-dimensional inequalities.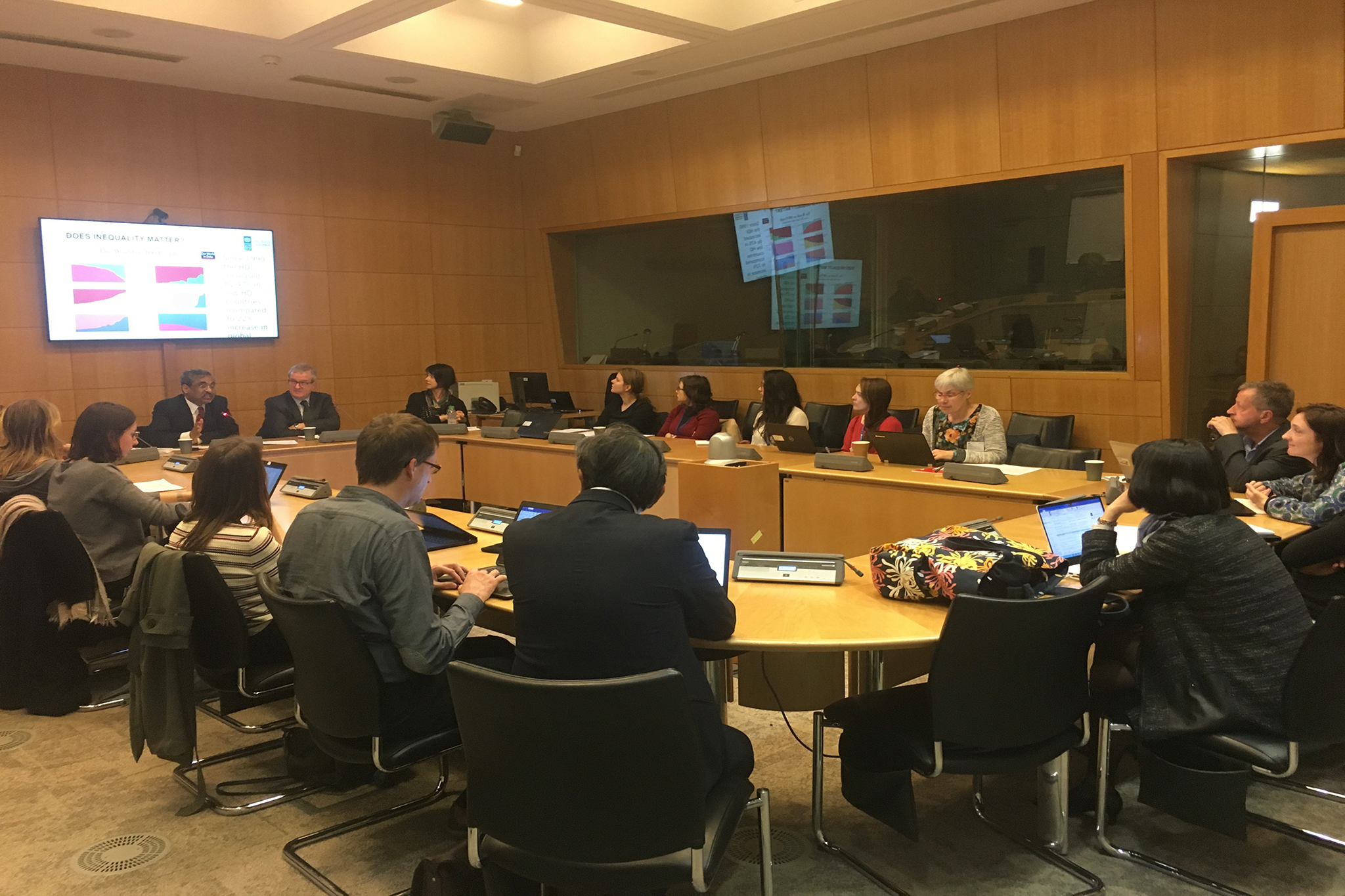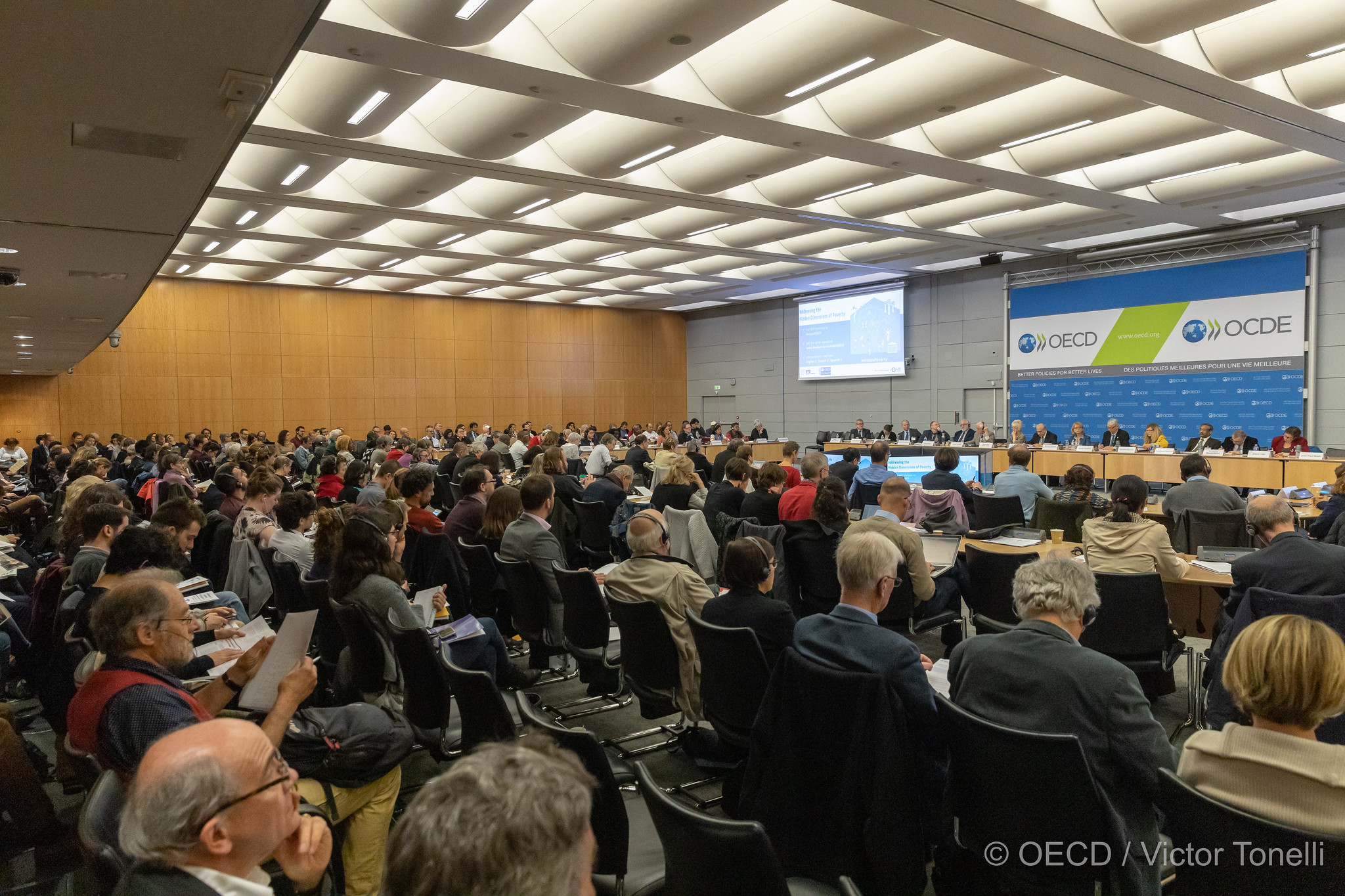 29-30 April, 2019, Nursultan (Kazakhstan) Eastern Europe and Central Asia regional Expert Group Meeting

The third regional consultation for the 2019 Human Development Report (HDR) took place in Nursultan (formerly Astana), Kazakhstan on 29-30 April 2019.

Meeting participants started by noting that countries in the region have a unique perspective on inequality given their history as communist societies. And as countries transitioned to market economies, pervasive challenges in inequality in access to services and opportunities have emerged.

The region is also characterized by the co-existence of modern sectors with traditional sectors, which generates dual economies that further drive inequalities.

Participants noted that even resource-rich countries are facing challenges in diversifying their economies partly due to the characteristics of the labor market. Low wages and the difficulty of attracting qualified people for these new functions were cited as examples. People who are highly-skilled tend to either leave the region or sell their services globally, even if they don't migrate, which has implications on the meaning of work. Enhancing capabilities and reducing inequality is therefore critical. It was also noted that there needs to be a careful balance between policies that protect labor (like minimum wage) and progressive taxation because it may cause increases in the informal labor market.

Participants also addressed how patterns of elite and political capture often have a transnational nature, noting the intersection of within country and between country inequalities. Gender inequality was cited as another major and persistent challenge, driven by strong gender roles, which generates major vulnerabilities in families, especially during difficult times.

The discussion also touched on data, which is seen as a big challenge given the still weak and not fully autonomous statistical capacity of the region, as well as lack of acceptance by the statistical community of insights and contributions from researchers.


April 25, Tokyo, Regional Consultation

UNDP/HDRO organized a consultation in partnership with the Japan International Cooperation Agency (JICA) covering the issues of inequality in health, education and human security and their links to human development.

The consultation was chaired by Ako Muto, Senior Research Fellow, JICA-RI and moderated by Pedro Conceição, Director of the Human Development Report Office. There were policy specialists, researchers, and academics among attendees representing Bangkok Regional Hub of UNDP, UNDP Representation Office in Japan, ADBI, Institute for Global Environmental Strategies, Waseda University, Japan, Nagasaki University, Japan, University of Tokyo, Doshisha University and JICA.

The topics discussed during the consultation included:
• Inequalities in health, education and human security and 2019 Human Development Report,
• The strategic take away: our story beyond income inequality,
• The linkage between inequality and the emergence of human tension,
• Improving the quality of education and health to reduce disparities,
• Emerging gaps in tertiary education and gender,
• Impact of urbanization on inequality, and
• Applicability of definitional issues such as horizontal inequality vs. vertical inequality, equality vs. equity.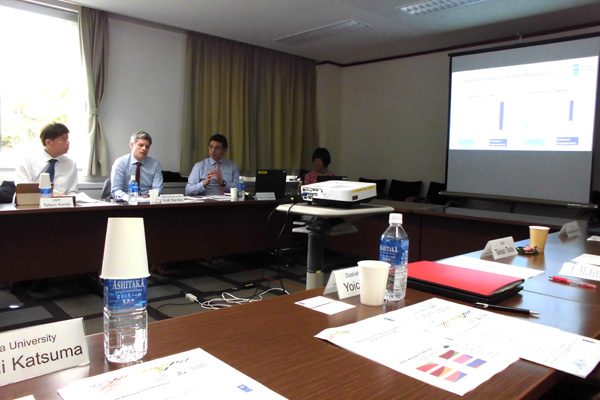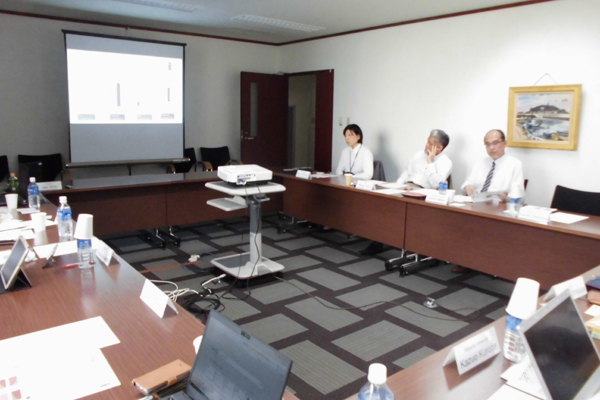 Agenda for Tokyo Regional Consultation
April 23-24, Doha, Regional Consultation

UNDP/HDRO organized a consultation in partnership with the World Innovation Summit for Education (WISE) which works through advocacy, research and programs to raise the status of education globally while highlighting innovation at the Qatar Foundation on the theme of education.

The attendees were from WISE, UNDP/HDRO, UNESCO, European University Institute, European University Institute, Education Above All, Qatar Foundation and Hamad bin Khalifa University.

Participants highlighted:
• The importance of considering the broader outcomes of education beyond traditional learning, for example education's role in building social capital and good citizenship.
• The need to promote the idea that progress in education goes beyond enrolment rates. There is work needed to understand what "quality of education" means in a broad sense and how it should be measured.
• School segregation- even by neighborhood - is the number one "inequality problem" in education.
• The relevance to include the perspective of marginalized groups in this debate, for instance, the accessibility to education for people with special needs.
• Data shows that the more standardization there is in an education system the greater the equality of outcomes, even giving pupils less choice in which subjects to study seems to promote equality.
• WISE is increasingly interested in social and emotional learning through education: data show that teaching children things like mindfulness increases both academic results and emotional outcomes. This is a key topic for future work.
• The crucial role of families as they are the prime incubator in shaping social skills and important in sharing health and education outcomes.

Agenda for Doha, Regional Consultation


16-18 April 2019, Marrakech, Morocco, Regional Consultation

In partnership with UNECA's Social Development Policy Division, UNDP/HDRO held a regional consultation themed "Inequality in human development: Africa consultation for HDR 2019", on the margins of the 5th Africa Regional Forum on Sustainable Development. The regional forum was co-hosted by the Kingdom of Morocco and the Economic Commission for Africa, with the participation of a wide range of stakeholders, including governments, civil society, researchers, international and multilateral organizations.

The recommendations highlighted during the event:
• The importance of peace and security in any discussion of inequalities in Africa.
• The need to understand the political economy, emphasizing the link between poverty and inequality.
• Addressing the origins of inequality of opportunity in the history of Africa.
• The role of access to health services and education.
• The importance of addressing the role of institutions and financial costs of inequalities.
• The need to have data that reflect the whole continent of Africa and to decide upon the metric for analysis.
• The need to reflect the changing inequalities over the life cycle.


10 April 2019, Beirut, Regional Consultation

The second regional consultation for the 2019 Human Development Report (HDR) was part of the Arab Forum for Sustainable Development, which took place on 10 April 2019 in Beirut, Lebanon. Jointly organized with the UN Economic and Social Commission for Western Asia, in partnership with United Nations Population Fund, World Health Organization and the Economic Research Forum this regional consultation focused on Rethinking Inequality in Arab States. Over 100 participants attended this special session, including sustainable development experts from Arab countries, government representatives, several regional and international organizations, civil society and academia.

The objectives were to: (i) inform the regional audience about key messages of the joint ESCWA-ERF upcoming report on rethinking multidimensional inequality; (ii) consult with Member States and other stakeholders on the preparation of the 2019 HDR on inequality in human development; and (iii) discuss policy options to reduce inequalities in the region.

The discussion also touched on Sustainable Development Goal (SDG) 10, which aims to "reduce inequality between and within countries," and its linkages with other SDGs, including goals 1 (no poverty), 5 (gender equality) and 8 (decent work and economic growth). The question of whether there is a consistent narrative on social (mainly in health and education) and economic inequalities in the Arab region was also addressed as well as the nexus between conflict and inequality.

In terms of the main recommendations for the 2019 HDR, participants advocated for an approach to inequality that incorporates the views of not only economists but experts from other disciplines such as sociology, political science and governance. It was also noted that other aspects such as human rights issues, intergenerational inequality and discrimination should be included. When discussing policy options, it was suggested that the report go beyond fiscal policy and consider social policies to leverage how the demographic dividend could foster more inclusive and sustainable development.

Agenda for Beirut, Regional Consultation


7-8 April 2019, Cairo, Regional Consultation

The first of the regional consultations for the 2019 Human Development Report (HDR) took place on 7-8 April 2019 in Cairo, Egypt. Jointly organized with the Economic Research Forum (ERF) - a leading think tank in the region - this Expert Group Meeting (EGM) gathered about 20 academic and policymakers from Dubai, Egypt, Morocco, Sudan, and Tunisia, and six experts from the ILO, UNICEF and other UN entities. For two days participants discussed (i) measurement and analytical issues related to inequality in human development, (ii) stakeholder's perspectives and experiences in this matter, and (iii) policy options for the Arab region.

Structured in six substantive sessions, the EGM's first session provided an overview of the 2019 HDR. The second session focused on the significance of economic inequality and polarization in the Arab Region with examples from Egypt and Morocco. Two regional experts led the third session on the inequality in education and health with examples from Tunis and Egypt and, in the fourth season, experts briefed on the policies needed to address gender inequality in the region based on the ongoing, comprehensive regional study by UNESCWA and ERF on Rethinking Inequality in the Arab Region. The fifth session focused on the links between inequality and globalization and climate change. The EGM closed with a final session on the policy options needed to tackle inequality and poverty in the region.

This meeting stressed the importance of the next Human Development Report to adopt a broader perspective of inequality, taking into consideration aspects such as inequity, fairness, social justice, and human safety, as well as population dynamics, including growth and decline, and people living in conflict countries or as refugees.

Agenda for Cairo, Regional Consultation


1 April 2019, Geneva, HDRO Consultation with the International Labour Organization (ILO)

The objective of the one-day consultation between HDRO and ILO, with participation of Frances Stewart (director of the Centre for Research on Inequality, Human Security and Ethnicity at University of Oxford), and Paul Ladd (Head of UNRISD), was to share ideas, research and thoughts regarding inequality in general, and on the upcoming Human Development Report 2019 on this topic in particular. In addition to learning from each other and test-driving ongoing work, the meeting was also a space to explore possibilities for potential collaboration.

HDRO presented its work-in-progress for HDR 2019. The overall approach to inequalities is to go beyond income, beyond averages and beyond today. Various drivers of inequalities were discussed, including changes to labor markets, technological change, the shrinking policy space of nation-states, and financialization. Different policies for each situation were mentioned, with the overall message of going beyond redistribution, as there are many entry-points for policies along the process of inequality formation.

ILO colleagues in different presentations described their ongoing work. Topics included the new model for estimating the labor share of income, the anti-distributive nature of labor markets, imbalances within capital income, and the redistributive (as well as secondary) effects of decent work on inequalities. Also mentioned were upcoming ILO publications such as Global Employment Trends for Youth, Digital Platforms and New Business Models, and Inequalities and Cities.

Areas for collaboration
1) Conceptual work – further analyze the counter-distributive nature of unregulated labor markets and the policies needed to correct this
2) Ways in which technology is changing the world of work, with implication for inequality and human development more generally
3) Using the new Labor Share model and micro-data to replicate labor income and productivity analysis from the ILO's Wage Report.

Agenda for HDRO Consultation with the International Labour Organization (ILO)

Consultation on the margins of the Expert Group Meeting on Reducing Inequalities

A consultation on HDR 2019: Inequalities in Human Development, was also held on the margins of the Expert Group Meeting on Reducing Inequalities: SDG10 Progress and Prospects organized by UNDESA and the World Bank. A discussion among panelists Prof. Frances Stewart (University of Oxford), Elliott Harris (UNDESA) and Martha Chen (Women in Informal Employment: Globalizing and Organizing Network), and a vibrant audience, was led by HDRO Director, Pedro Conceicao. Many important points came up during the discussion, including the salience of horizontal inequalities, and of informal work and its links with inequality. In developing countries, informal workers (90 percent of the workforce) face occupational risks, policy uncertainty, and policy hostility. The self-employed (eg. hawkers, waste pickers) are stigmatized, harassed by the police, and blamed for their low productivity. A discussion on inequality is incomplete without addressing these workers.

The discussion also touched upon policies. When it comes to universal provision of healthcare, groups such as informal workers face many barriers in accessing these services. For example, there may be a requirement to register with an accredited health facility near where you live. However, informal workers often commute 2-3 hour for work and are unable to register at a facility close to where they live, and are excluded from the service provision. Migrants are another group that tend to get excluded. Universal provision is to be strongly supported yet it may not be able to break entrenched inequalities, and more may be needed. It is important to look at how discrimination impacts the outcomes of different groups.


28-29 March 2019, New York, Symposium on Measuring Inequality in the 21st Century

The Human Development Report Office (HDRO) organized a two-day Symposium on Measuring Inequality in the 21st Century in partnership with leading organizations and think-tanks in the field: LIS Cross-National Data Center, the Stone Center on Socio-Economic Inequality at the City University of New York, UNU-WIDER, and the World Inequality Lab.
For two days, experts from the partner organizations as well as from CEPAL, CEQI, Columbia University, IMF, ILO UN-DESA, New School, OECD, UN-WOMEN, UNDP, Universidad de Buenos Aires, and the World Bank, discussed the state of inequality measurement in the world – main gaps, challenges and innovations – and explored a collaborative agenda to refine concepts, data and methodological approaches. Particular attention was given to how to integrate different data sources to overcome problems in the measurement of inequalities in different contexts. Participants also discussed what actions should be promoted among UN Member States, policy makers, academics and global data providers (access agenda here).
At closure of this Symposium, HDRO organized an Open Dialogue on Inequality in the 21st Century led by Achim Steiner, UNDP Administrator, and Paul Krugman, Nobel Memorial Prize in Economic Sciences and distinguished Professor at Stone Center on Socio-Economic Inequality at the City University of New York. The event provided a space to reflect on critical questions that are central in the global inequality debate with key stakeholders – Member States, think tanks, foundations, CSOs, other UN agencies, and media. Watch video below.

Agenda for Symposium on Measuring Inequality in the 21st Century
Participant's Biographies


9 March 2019, New York, Human Development Statistical Advisory Panel

HDRO's Statistical Advisory Panel, which meets during the production of every Human Development Report (HDR), brought together prominent members from the statistical community. The Panel is comprised of representatives from National Statistical Offices (NSOs) from Malaysia, Nigeria, Sweden and Tanzania; civil society and academia from the National School of Statistical Science in Brazil, Oxford University, the University of Geneva, and the Woodrow Wilson School at Princeton University; and from the UN and other international organizations including the UN African Centre for Statistics, ILO, UN Environment Programme, UNESCO Institute for Statistics, UN Global Pulse and the World Bank.

During the meeting participants addressed many aspects of the statistical production, tackling both the technical elements, as well as communication with data producers and users of human development statistics. The discussion covered the computation of composite indices and other human development indicators, approaches to dealing with missing data, the analysis and visualization of data for the Report, as well as for the on-line presentation and database. Issues related to communication with NSOs and the international statistical community were discussed too. The members of the panel also advised on the use of new data sources, in particular the use of Big Data, to complement or supplement official data for better measuring and understanding of well-being, poverty, inequality and other relevant aspects of human development. Read more

Agenda for Human Development Statistical Advisory Panel